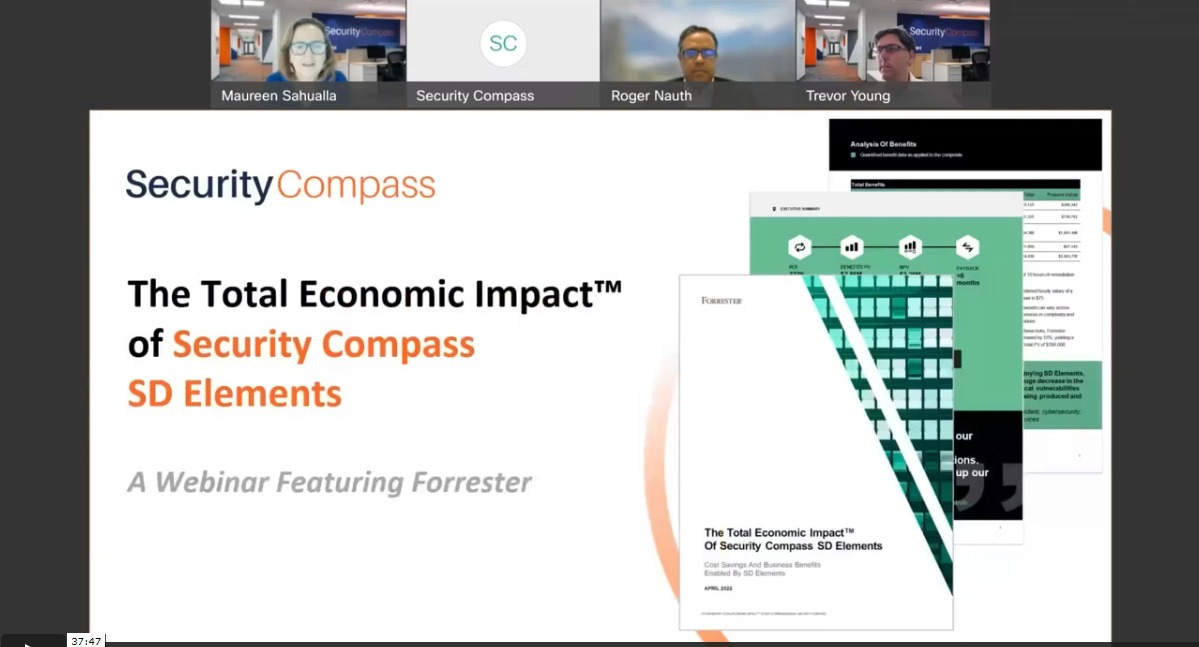 Watch this on-demand Webinar now!
Companies face increased pressure to start or mature their application security programs but figuring out the best approach and where to start can be difficult. Many solutions claim to help organizations build more secure software. However, measuring the value provided by the solution compared to its economic and organizational costs can be difficult.
To help companies with this challenge, Security Compass commissioned Forrester Consulting to conduct a Total Economic Impact™ (TEI) study to examine the quantifiable return on investment (ROI) enterprises can realize by deploying SD Elements.
The study found that a composite organization generated an ROI of 332% over three years, with a payback period of less than six months. The study also found that organizations using SD Elements reduced the time required from security personnel to generate security requirements by 90 percent.
In this webinar, Trevor Young, Security Compass Chief Product Officer, and guest speaker Roger Nauth, Forrester Senior TEI Consultant, break down the findings from the study.
Learn how organizations use SD Elements to: Reduce the need for vulnerability remediation
Reduce the need for vulnerability remediation
Increase productivity
Reduce costs through automation
Decrease time spent on compliance certifications
Forrester also provides a framework you can use to help your own organization evaluate the potential financial impact of using SD Elements to scalably model software threats and deliver secure, compliant code quickly.
"When deploying SD Elements, we saw a huge decrease in the cost of critical vulnerabilities that were being produced and reworked."
— Vice president, cybersecurity, financial services
Speakers: Roger Nauth, Senior Consultant, Total Economic Impact™ Consulting Practice, Forrester & Trevor Young, Chief Product Officer, Security Compass